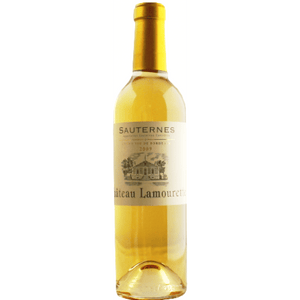 Semillon
37.5cl * 13.5% ABV * Sauternes, France
During its 160-year existence (the estate was founded in 1860 although its first bottling was 1919) it has been the women of the Leglise family who have done the bulk of the winemaking at Lamourettes, as since WWI the head winemaking hat has been passed from mother to daughter to granddaughter.
A tiny artisanal estate of just 10ha situated less than a kilometre (i.e. just a five-minute stroll) from its rather flasher neighbour Château d'Yquem. The vines are on average 40 years old so the wine could be classed Vielles Vignes if they so wanted. 
Like all Sauternes, harvest takes place after Botrytis, known as "Noble Rot," has set in, leaving the grapes dry and full of sugar. The harvest typically begins in mid-to-late September and continues on in three or four parts to allow all parcels time to let Botrytis run its course.
The present matriarch, Anne-Marie, prefers wines of freshness, rather than just sheer power: our tasting notes mention marmalade, dried mango, quince and honeycomb. 
Lemon cheesecake, crème brûlée, panna cotta and custard tarts are always an indulgent match for this Sauternes - that said, it's hard to go wrong with the classic pairing of Roquefort.