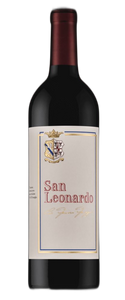 Cabernet Sauvignon, Merlot, Carmenere
75cl * 13% ABV * Trentino-Alto Adige, Italy
The iconic wine of the estate, with its roots deep in its centuries-old history, San Leonardo is a classic Bordeaux-blend of elegance and extraordinary longevity. Jancis Robinson ranked the 2017 vintage of San Leonardo above Sassicaia and decrees that vintages from 1988 are still going strong, with the youngest vintage, 2011, already beginning to drink well. Prized for their consistency, the estate of San Leonardo only makes their flagship wine in years when the weather is obliging.
The ideal weather conditions of 2018 and a strict selection from older vines have yielded a classic San Leonardo of sublime balance. September saw very large thermal differences between day and night – "the secret to incredible perfume" according to owner Anselmo Guerrieri Gonzaga. The grapes were harvested in the cold of October, further enhancing the aromatic freshness as well as helping fix a beautiful colour. Balance-wise, the result harks back to pre-climate change vintages, with all the flavour benefits of a lengthy growing season but still just 13% alcohol.
Marchese Carlo Guerreri Gonzago studied oenology in Lausanne in the late 1950s and then worked at the Tuscan estate that produces Sassicaia, Italy's prototype 'Super Tuscan' Cabernet. Under the influence of Sassicaia's creator, Marchese Mario Incisa della Rocchetta, Carlo was keen to see whether similar bordelais subtlety could also be coaxed out of the infertile clay-limestone benchlands of his wife's estate in Trentino.
Carmenère, the grape variety that is nowadays common in Chile but almost extinct in its Bordeaux homeland, was supplied by mistake by a French nursery when Carlo was establishing his vineyard and was expecting Cabernet. Varietal Carmenère tastes green and unripe if the vines are allowed to be too productive and is too concentrated if they are pruned too severely but Carlo has learnt to tame it.
This is the perfect accompaniment to roasts, braised meat and stews, game and mature cheeses.
"The only Trentino Bordeaux capable of evolving to arrive with personality to the present day, in a vintage of grace. Cabernet Sauvignon, Carmenere and Merlot. Cherries in jam, undergrowth, juniper and rhubarb, dense-brackish mouth, crunchy and compact, splendidly persistent finish" – 100 points, Luca Gardini "The Wine Killer"!
"This wine is likely to have the broadest drinking window of any modern San Leonardo. Despite the deep purple colour, it is already open and generous on the nose, with vivid ripe morello cherry fruit. The gentle extraction has imbued the wine with a cashmere texture even at this young stage, while the palate is lifted by the leafy, currant-bud notes that are San Leonardo's signature, reflecting as they do the influence of cool air flowing down from the Dolomites. Balance, charm, and great ageing potential – this San Leonardo has it all." – Alex Hunt MW