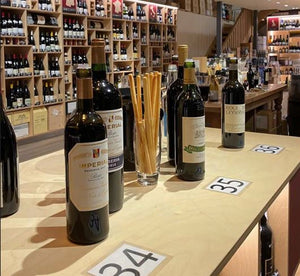 Friday 10th November ~ 7pm-9pm 

Join us for an informal walkabout wine tasting evening where up to thirty of our finest wines will be available to taste. The wines will be accompanied by a generous selection of canapés and our knowledgeable staff will be on hand to answer any questions you might have. The wines are chosen to echo the time of year, so expect both rich and crisp whites, perfect for either dinner or drinks parties, red wines that will pair well with traditional winter fare and dessert wines and ports that always finish off an autumn evening in style. Unlike the other Winter Walkabout Tastings, this one will have a focus on fine wines, with selections from the top shelves and special cellar bins!
We will be limiting the event to a maximum of 30 people, so if you'd like to bring any wine-loving friends, secure your tickets sooner rather than later to avoid disappointment.
We look forward to seeing you soon! 
Cancellation policy: We cannot reserve places at wine tastings without payment. We always understand when circumstances change, however due to excessive cancellations in the past (which sadly led to us having to stop running our Wine School) we now have this policy in place: If you cancel up to one week before the event we will issue a full refund; between one week and 48 hours before the event, we will issue a full refund, but only IF we can resell your ticket at full face value; if you cancel with less than 48 hours before the event, I'm afraid we won't be able to refund ticket. 
When ordering your tickets please state in the notes box if you or any of your party have any food allergies or intolerances.