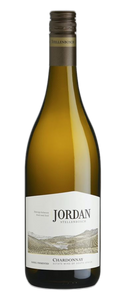 Chardonnay
75cl * Vegan * 13% ABV * Stellenbosch, South Africa
Gary and Kathy Jordan have been making world-class wines since 1993 on a farm with a history going back over 300 years. Gary's parents, Ted and Sheelagh, bought the now 164-hectare Stellenbosch property in 1982, and embarked on an extensive replanting programme, specializing in classic varieties suited to the different soils and slopes. The distinct ravine in the Stellenbosch Kloof ward allows the opportunity to harness the cooling influences from the False Bay on these south and east-facing slopes. This captures the intense flavour compounds found in the grape skins. 
Planting a variety of chardonnay clones on different slopes, and harvesting them at their different ripening levels followed by fermentation and maturation in French oak barrels gives this wine a unique flavour. The wine was matured "sur lie" in the barrel for 9 months with occasional rolling of the barrels to accentuate the leesy character. These practices helped to achieve natural balance and allow for different textural components which were then blend to achieve finesse and complexity. The resulting wine is bold yet graceful with fragrances of lemon biscuit and overripe oranges.
Delicious with fresh fish and seafood, or for the ultimate indulgence try with Southern fried chicken.