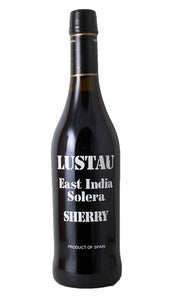 Oloroso, Pero Ximenez
75cl * 20% ABV * Jerez, Spain
Bodegas Emilio Lustau was established in 1896 and was initially a small family business until the founder's son-in-law decided to make it just a tad more commercial. The story of this sherry, however, has its roots two centuries earlier, when in the 17th century the East India Company used to send barrels of sherry as ballast in its ships (and for the crew to drink on the long, hot journey to India). When some of these barrels made the return journey, the East India Company officials noticed that the sherry had improved greatly after its long journey, no doubt due to the time it had spent maturing in barrel, soaking up the high temperatures of the East Indies and interacting with the sea air. The current bottle honours this history by being 'labelled' (ie without a label) in a similar way to how the 17th century bottles would have been, once they'd returned from their Indian adventures.
This sherry is actually a blend of dry Oloroso sherry with 20% dark, sweet Pedro Ximenez, each aged separately for about 12 years. On the nose there's the raisins you'd expect from the PX, plus a nutty hint from the Oloroso. On the palate its a sophisticated mix of the two - not overly sweet, and definitely more burnt sugar than full-on syrup. A refreshing salinity comes from the Oloroso along with prunes, mocha and a touch of acidity.
A very interesting 'cream' sherry, with a lot going for it.