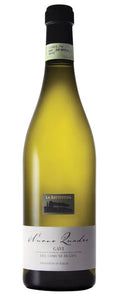 Cortese 
75cl * Vegan * 12.5% ABV * Gavi, Italy
The wines of Gavi are permitted to use the 'di Gavi' sub-zone on the label if their grapes are sourced from vineyards on the chalky, mineral-rich white tufo soil at the heart of the historic township, which can be found at the foot of the Battistina hill. These soils are said to give Gavi di Gavi the pear flesh flavours that set it apart from regular Gavi.
The hand harvested grapes for this wine are gently pressed before cold fermentation in stainless steel to preserve the wine's fruity fresh flavours, followed by 6 months aging with the yeast from fermentation that reduces the acidity and adds a layer of flavour.
With its baked orchard fruit and tangy citrus streak and of course the signature pear flavours, the perennial customer favourite Nuovo Quadro has an appealing Chablis-like quality. Soft balsamic scents add complexity to the rounded finish.
Ideally serve at 8°C – 10°C (so remove from the fridge about half an hour before serving) with anything with a fin or a shell, or just as an apéritif.