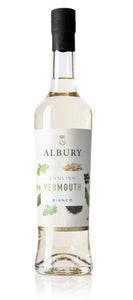 50cl * 15% ABV * Surrey Hills, UK
This off-dry vermouth has been hand crafted from distilled Sauvignon wine blended with Pinot Noir and a lovingly considered selection of botanicals.
Vermouth owes its name to wormwood, or 'wermut' and Albury Vineyard's English Bianco is off-dry in style. Vibrant aromas of sweet orange, mint and kaffir lime leaf are complimented by bold black tea and sweet honey bush with a hint of bay leaf and toasted oak for added complexity. A delicious amalgamation of nutmeg, orange peel, lemon balm and just a hint of Tasmanian mountain pepper adds body and, as with any vermouth, wormwood provides a distinctive tongue-smacking bitterness.
Serve as a spritz with Albury sparkling wine, a twist of fresh lime and sprig of mint. Or for a classic martini combine one part vermouth with four parts gin and serve ice cold with lemon peel or olives.

Although fortified, vermouth is a wine so keep it in the fridge once opened and drink within four weeks.