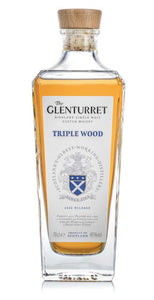 70cl * 43% ABV * Scotland 
The Glenturret Triple Wood is a sweet and spicy yet soft whisky. Matured in American and European oak sherry-seasoned casks alongside Bourbon barrels; these three different cask styles have been thoughtfully combined to create a whisky with an alluring golden colour and a delightful subtle character.
Vibrant spices, peaches with a dash of cinnamon and vanilla meet with creamy wood notes leading to a sweet oaky finish.
The 2022 Glenturret Triple Wood was judged the world's top single malt Scotch whisky at the 2023 International Wines and Spirits Competition (IWSC) in March 2023, winning an Outstanding Gold medal with a score of 99 points! The 2023 was released in October 2023 and is yet to be judged.