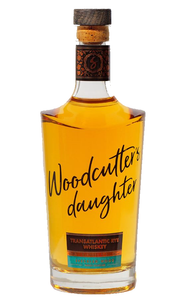 70cl * Vegan * 46% ABV * East Coast, US & Surrey Hills, UK
A modern approach to blended whiskey and inspired in equal part by the essence of the Surrey Hills countryside and the metropolitan dynamism of New York, Woodcutter's Daughter combines a classic American Rye with an artisanal British twist. It borrows some old-world 'whisky' and 'whiskey' making traditions but combines them with innovative British and US distilling talent.
Since ancient times there have been many myths and legends attached to the picturesque Silent Pool of the Surrey Hills as a spot of eerie tranquillity and beauty. According to one legend, in medieval times a maiden was bathing in the pool when she was startled by a young prince on horseback. She refused his advances and moved away into deeper waters of the pool and tragically drowned. The Prince became King John. The young maiden was the woodcutter's daughter. This whiskey is Silent Pool Distillery's tribute to her courageous and independent spirit.
Lots of rules were broken in creating this whiskey; distilling talent on both sides of the Atlantic enjoyed total creative freedom from whiskey traditions or customs when making this innovative blend. During the fermentation process a period of no temperature control was utilised to contribute to the character of the whiskey. Either side of the Atlantic two different distillation techniques were then employed, both a continuous still and copper pot still to provide further innovation in the process. The whiskey was then aged in new heavy charred American oak barrels and French oak casks for 3 years.
A combination of the finest US East Coast and Surrey rye grains were blended with some malted barley to create a rye with notes of coconut, fresh hay, spice, cola, butter and forward notes of pepper. Complex, bright and floral green apple top notes combine with rich honey undertones and deep hints of vanilla to leave a lingering, satisfying sweetness. Unrelenting in spice and punchiness but remains smooth enough to sip neat, this rye is also excellent mixed with Campari and sweet Vermouth for a rich and warming Boulevardier.
Taurus has taken 60 of the small batch of 1500 bottles that have been made of this rye whiskey.