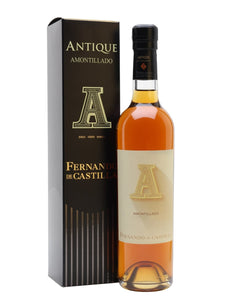 Palomino Fino

50cl * 19% ABV * Jerez, Spain
Named for King Ferdinand III, a Spanish king who conquered vast amounts of Andalucia, this bodega is actually now owned by a particularly passionate Norwegian called Jan Petterson. Together with a group of investors he expanded the old Bodegas Rey Ferdinand di Castillo and brought it into the modern age and into being one of the most exciting in the sherry world. One of the innovations Petterson brought in was with this 'Antique' range, which was sold in 50cl bottles, to emphasise its value, and with clear glass, so the colour of the sherry (which indicates ageing and quality) can be seen.
A very serious and austere sherry with the classic greenish amber tint, typical of aged amontillados of a rich golden colour. There is a real tang to both nose and palate with orange peel, eucalyptus, varnished wood, fennel and a myriad of other flavours and sensations singing subdued screams against the background canvas of stark dryness and tense acidity defeated by the overwhelming complexities - a really sublime wine.
This deep amber sherry starts life under flor, when it is fortified and continues to age oxidatively. This nurtures incredible hazelnut complexity and intense aromatics over the 20 years in solera. Hugely versatile and amazing with soups, artichokes, asparagus, light game such as pheasant or partridge and wild mushrooms … once opened the sherry will stay in perfect condition for several months … but I dare you to make a bottle last that long!