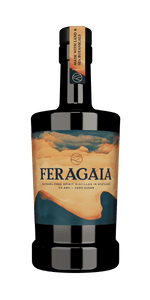 50cl * Gluten free * Vegan * 0% ABV * Scotland 

Feragaia is a Scottish handcrafted, small batch, alcohol-free spirit distilled from 14 botanicals including seaweed, bay leaf and chamomile. The brand is also hugely focused on sustainability, with both the bottle and cap recyclable, while all botanicals are composted post-distillation and locally sourced where possible.
Amber in colour, with a taste of clean complexity and warming finish. It opens with familiar citrus from blackcurrant leaf, kaffir lime and lemon verbena. A drawn-out herbaceous body is then introduced with nuances of chamomile, pink peppercorn and serrated wrack. Balancing citrus and herbaceous aromatics, that build to an earthy warming finish. Perfect if you're looking for something a bit different!
It works very well either on the rocks or with a splash of tonic water.