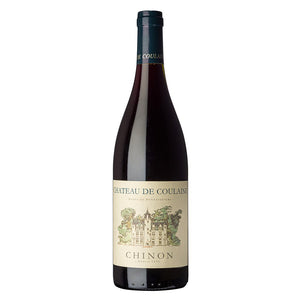 Cabernet Franc
75cl * Organic * Sustainable * 13.5% ABV * Chinon, Loire Valley, France
Coulaine is a family-owned estate which has been operating continuously on the south side of the Loire since 1300. Cabernet Franc is an ideal grape to use for what the French call vin de soif - a thirst-quenching, moreish, wine ideal for the dinner table. But it doesn't mean that it shouldn't be taken seriously - these sorts of bottles require careful intervention from the winemaker in order to shimmer just as this does.
Château de Coulaine is a historic estate, dating back to the early 13th century. Amongst their 18ha are some significant holdings in Chinon's most famous and important vineyards and the average age of the vines here is very high. The family live in a flamboyant, Gothic chateau largely built in 1460-70, with additions from the 19th century. For many years the estate has employed a strict policy of 'selection massale' when replanting and they have been organic since 1997, the first in the appellation to achieve certification. 
Fragrant, bright with an attractive leafy character and dark cherry notes. Serve very lightly chilled with cold meats or if you're feeling adventurous a wild seabass would also fit the bill nicely.