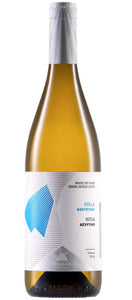 Assyrtiko
75cl * Vegan* 13.5% ABV * Crete, Greece
Greece is in throes of a vinous renaissance. Gone are the days of dodgy, pine-scented retsina served in even dodgier tavernas - Greek wine is every bit as fine as the great bottles of the rest of Europe. Bracingly fresh and mineral, Assyrtiko has much in common with Albariño, its slight saltiness will set off grilled sea bass stuffed with lemon and herbs.
 Winner: Top 100 Wineries of 2022
- Taurus Team Tasting Notes -
The aroma is full of fresh citrus flavours, with tangerine and lemon shining through. The palate is dry, crisp and well balanced with flavours of fleshy stone fruit and delicate hints of peach. The finish is a delightful pear, with slight minerality.