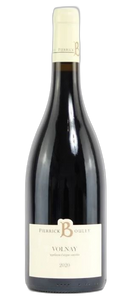 Pinot Noir
75cl * Practising Sustainable * 13.0% ABV * Burgundy, France
In the heart of Volnay, this estate was taken over by Pierrick Bouley in 2012. He has since won Young Vigneron of the Year from Bourgogne Aujourd'hui magazine. Made in a 'hands-off' style with minimal sulphur, allowing the wines to evolve naturally during fermentation. The result: wines of very pure fruit, unmasked by oak, showing silky tannins and formidable length – just as Volnay should taste. Wines of stature as well as structure, retaining superb balance.
From a very good vintage, the 2020 Domaine Bouley Volnay has elegant, floral aromas with plush, juicy fruit on the palate and a lovely soft finish.
In its youth pair with garlicky lamb cutlets accompanied by Sicilian-style greens.
Serve at 15-17°C.
Drink to 2036.