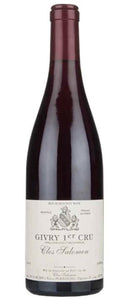 Pinot Noir
75cl * 13.5% ABV * Burgundy, France
The Clos Salomon vineyard dates back to at least 1375 from when there are records of the Domaine selling not only to the Papal Court in Avignon, but to the Pope himself in Rome. It was also the favourite wine of the popular French King Henry IV.
The monopole vineyard Le Clos Salomon produces a red Givry Premier Cru, made without concession to commercial logic by the engaging winemaking duo, Ludovic du Gardin and Fabrice Perrotto. The 7 hectare vineyard has been owned by Ludovic's family since 1632: an especially impressive feat when you consider that this includes the period of the French Revolution which did not exactly do wonders for the continuity of family held estates.
The Clos Salomon vineyard itself is a rocky, steeply sloping south and east facing vineyard, just to the south-west of Givry. An absolute suntrap, Clos Salomon makes a distinctly full-bodied wine and the domaine has to harvest different parts of the vineyard at different times, to try to balance out the soaring ripeness levels found between the lower and upper slopes and the older and younger vines. 
One of Burgundy's most original, unspoilt Pinot Noirs, it is brimming with fruit energy and superior texture and boasts that hallucinating freshness which stays with top Pinot Noir even when fully mature. The gutsy, ripe wine style cries out for a bit of softening in most years, so the domaine feels fully justified in using around 25-30% new oak, which is an unusually high proportion for many Côte Chalonnais domaines and adds to the impression that this is not 'typical' Givry rouge.
Drinking now where it is showing the distinctive raspberry aroma of younger Givry it is best served decanted for at least a couple of hours and between 16 – 18 degrees. Well-cellared it will continue to improve for at least 5 years and will keep for a further 10 during which time it will take on more earthy and gamey flavours.