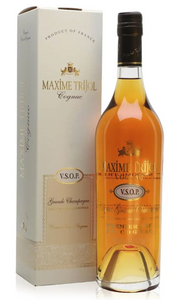 70cl * 40% ABV * Cognac, France
Something that can be confusing for the Cognac novice is the inclusion of the word Champagne in the title. Any Cognac marked 'Grande Champagne' doesn't mean it's been distilled from Champagne, but instead means it's made from Ugni Blanc grapes from the Grande Champagne sub-region of the Cognac AOC. As is the case with this Maxime Trijol blend, made with eaux-de-vie that has been aged for up to 20 years, with the resultant brandy being golden yellow with remarkable finesse.
A floral, fruity bouquet showing some subtle oaky spice is followed by a hint of vanilla thanks to the ageing in Limousin oak barrels. There's a lovely long finish with good balance and harmony. Drink at about 20°C.