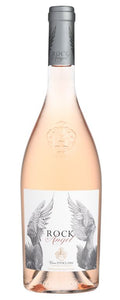 Grenache, Rolle
75cl * Vegetarian & Vegan * 13.5% ABV * Provence, France
The appellation of Côtes de Provence covers a wide swathe of Provençal vineyard from Aix east to Cannes. Winemaker Sacha Lichine is a man of pedigree; his father, of Russian descent, and American mother, had built their wealth and reputation with a Bordeaux business which included Chateaux Prieurie Lichine and Lascombes in Margaux. Sacha has continued with the family tradition for innovation, by drawing on his wide experience of winemaking and his keen understanding of consumer needs a range of contemporary Mediterranean wines with the 'chicken' labels, whose fruit forward style makes them immediately enjoyable.
Rock Angel is an exceptionally elegant rosé, lightly oaked it's a rosé for those who are partial to white burgundy. A fresh nose offers light fruit aromas, complex notes of liquorice and hint of angelica (earthy, slightly sweet, a little bit bitter, and a hint of liquorice). Full of harmony on the palate with delicious red fruit flavours and a surprising spicy finish. Stone fruit and white pepper burst onto the tongue, leading onto a slightly savoury finish.
Pair with lightly grilled chicken, dover sole or lobster thermidor.