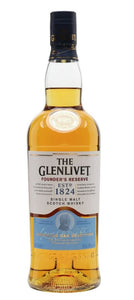 70cl * 40% ABV
Boasting the classic flavours of The Glenlivet bound up in a creamy, smooth texture, The Glenlivet Founder's Reserve single malt whisky is a tribute to the man who started it all.
The traditional oak casks in which the whisky is matured gives each expression its own distinct characteristics. To lend a modern twist to the flavour, Master Distiller Alan Winchester marries together a selection of aged oak casks and American first-fill oak casks - those that have never before been used to mature whisky. Selective use of these casks provides a smooth, creamy sweetness that mingles harmoniously with the delicate flavours and complex fruity tones already present in the whisky.
This is classic Glenlivet, with citrus fruit, sweet orange aromas leading to zesty orange, pear, and toffee apples on the palate and a long, creamy, smooth finish.