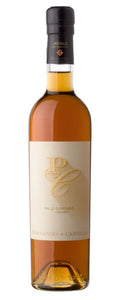 Palo Cortado
50cl * 20% ABV * Jerez, Spain
Palo Cortado is an anomaly in Sherry terms: originally destined as a Fino, unique ambient conditions mean that certain barrels are set apart for oxidative ageing. The end result combines the richness of Oloroso with the crisp qualities of Amontillado. Tangy and smoky, nutty and delicate, honeyed but never sweet - this is one of the classiest fortified wines available to buy and received an rare perfect 20/20 score from Master of Wine Jancis Robinson.
The name means 'cut stick,' in reference to the mark made on the cask when this style of wine is recognized. Since the wine was originally destined to be a Fino or Amontillado, it will initially have had a single stroke marked on the cask. When the cellar master realises that the wine is becoming a Palo Cortado, he draws a cross (or cut) through the initial stroke (or stick), resulting in a crossed stroke or 'cut stick' (/). At this time the wine will be fortified to about 20% abv, to prevent spoilage from contact with the air and ageing continued separately from its original solera. So, the sherry in your bottle is on average 30 years old.
"Complex nose of chicory, pistachio and raisined butterscotch. Nutty palate with soya finish." "Rich, complex drinking with layers of honey, coffee, hazelnuts. Incredible balance." - Tasting notes from the International Wine Challenge in 2013 & 2015, where this won Gold.
This Palo Cortado is the perfect companion to cured hard cheeses such as Manchego or Parmesan and also extra matured cheddar and gruyere.
Drinking Window 2007-2050