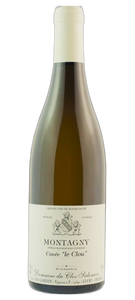 Chardonnay
75cl * Organic * 13% ABV * Burgundy, France
The Clos Salomon vineyard dates back to at least 1375 from when there are records of the Domaine selling not only to the Papal Court in Avignon, but to the Pope himself in Rome. It was also the favourite wine of the popular French King Henry IV.
The monopole vineyard Le Clos Salomon produces a red Givry Premier Cru, made without concession to commercial logic by the engaging winemaking duo, Ludovic du Gardin and Fabrice Perrotto. The 7 hectare vineyard has been owned by Ludovic's family since 1632: an especially impressive feat when you consider that this includes the period of the French Revolution which did not exactly do wonders for the continuity of family held estates.
This Montagny from Clos Salomon is a terrific white Burgundy. This wine has lots of lovely ripe fruit, yet not over the top, fine minerality and perfectly poised acidity that all combine to make this a superb wine. The palate is quite richly flavoured, with notes of pineapple, ripe apple and a nutty roundness. It has a lovely backbone of acidity and minerality to keep it lifted and fresh.