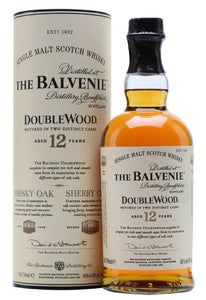 70cl * 40% ABV * Speyside, Scotland
DoubleWood 12 was launched in 1993, using a process designed by our Malt Master David Stewart in 1982, now commonly known as 'wood finishing'.
To make The Balvenie DoubleWood, David Stewart MBE takes whisky that has spent at least 12-years in traditional whisky casks, American Oak ex-bourbon barrels and hogsheads, and moves it to Spanish oak ex-Oloroso sherry casks for an additional nine months. The whisky is then transferred to large oak vessels called "tuns" for 3-4 months to allow the whiskies from individual casks to "marry". Each stage lends different qualities to the resulting single malt whisky.
Gristy (the finely ground malted barley) on the nose with a supple nuttiness intertwined with spices, inviting honeyed sultanas and Oloroso sherry notes thanks to the casks. On the palate the bourbon characters develop; gentle spice with a little vanilla, a hint of peat. Dried fruit too, combining with nuts, nutmeg, cinnamon, back into the bourbon notes with a long and warming finish.