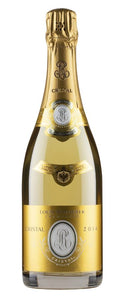 Pinot Noir, Chardonnay
75cl * 12% ABV * Champagne, France
'A wine of pure pleasure and a sophisticated gastronomic wine, Cristal is both powerful and delicate, combining subtlety and precision.' 
- Jean-Baptiste Lécaillon, Cellar Master
Roederer's most famous wine was created in 1876 to satisfy the demanding tastes of Tsar Alexander II. The emperor asked Louis Roederer to reserve the best cuvée for him every year. To distinguish this cuvée, Roederer bottled it in a flat-bottomed, transparent lead-crystal bottle. The Champagne became synonymous with this precious, glistening material, which is particularly transparent and luminous. Some say these characteristics made the Tsar feel happier drinking the Cristal as he could see that the wine had neither been poisoned (due to the clear glass) or implanted with an explosive (due to the lack of punt-space on the flat bottom). 
Only produced during the best years, when the Chardonnay (around 40%) and Pinot noir (around 60%) grapes have attained perfect maturity, Cristal is aged for six years in Louis Roederer's cellars and left for a further eight months after dégorgement.
Crafted from a generous and perfectly ripened harvest of grapes, Cristal 2014 is a sun-drenched vintage characterised by the intensity of its fruit, its incredible chalky purity and the perfect balance it strikes between maturity and freshness.
Cristal 2014 is ready to be enjoyed in its youth yet still has potential for evolution with a long future ahead of it.
Drink to 2045.