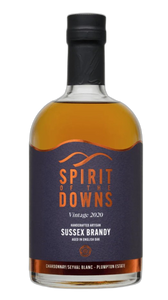 50cl * 40% ABV * Sussex, UK 
First created in 2019, this award-winning spirit is made from the remaining juice and skins (pomace) from grapes grown in and around the South Downs. Spirit of the Downs uses Chardonnay and Seyval Blanc grapes aged in English Oak barrels to create this delicately fruity, smooth and complex brandy.
Aged for 11 months in English oak casks made by the UK's last Master Cooper, Yorkshire-based Alistair Simms, this light brandy offers aromas of elderflower, honeysuckle, caramel and butterscotch. It is young, light and well-balanced with a lovely sweetness and sits in style between a calvados and an Armagnac.
Delicious as a digestif or in a Sussex Sidecar cocktail; 50ml Spirit of the Downs Brandy, 25ml Triple Sec, 5ml Lemon Juice, Handful of Ice, Dash of Angostura Bitters.