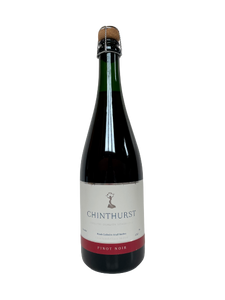 Pinot Noir, Pinot Précoce
75cl * Vegan & Vegetarian * 12.5% ABV * Surrey Hills, UK 
We are proud to be the sole merchant of a very local addition to the English sparkling wine world with this new limited release from Chinthurst Hill Vineyard.
Nestled among the beautiful villages of Wonersh, Bramley and Blackheath, this small-scale vineyard in the heart of the Surrey Hills is a site rich in tradition and history. Since 2014, vines have flourished on a sunny southern slope against the backdrop of the local honey-coloured Bargate stone of Chinthurst Hill House. Designed by renowned Victorian architect Sir Edwin Lutyens in 1893–95, with stunning gardens laid out by Gertrude Jekyll, Chinthurst Hill House was the young architect's first major commission. The current owners are in the throes of restoring the house in it's original style.
Just six hundred vines have been planted on a portion of Chinthurst Hill's four acre site where planting is a mix of Pinot Noir and Pinot Précoce grapes. Grapes have been sent up the road for production and bottling by English wine specialist Litmus Wines, one of the leading forces in English winemaking based out of Denbies Wine Estate in Dorking, Surrey.
After the sell-out success of their first bottling last year, comes Chinthurst Hill Vineyard's first Sparkling Pinot Noir. This sparkling wine is made from Pinot Noir and Pinot Précoce. The little-known Pinot Précoce is an early ripening relative of Pinot Noir, which, flavour-wise, is indistinguishable from its cousin. It offers ripe summer fruit flavours to balance acidity, a sensible choice in southern England when an Indian summer for harvest is never guaranteed.
Deep pink in colour, this wine is abundantly aromatic with strawberry and dark fruit notes. Lively, fresh and fruity with a crisp, long finish. It makes for a lovely aperitif as well as standing up to picnic fare and charcuterie.