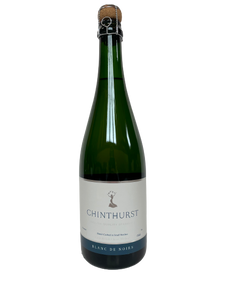 Pinot Noir
75cl * Vegan & Vegetarian * 12% ABV * Surrey Hills, UK 
We are proud to be the sole merchant of a very local addition to the English sparkling wine world with this new limited release from Chinthurst Hill Vineyard.
Nestled among the beautiful villages of Wonersh, Bramley and Blackheath, this small-scale vineyard in the heart of the Surrey Hills is a site rich in tradition and history. Since 2014, vines have flourished on a sunny southern slope against the backdrop of the local honey-coloured Bargate stone of Chinthurst Hill House. Designed by renowned Victorian architect Sir Edwin Lutyens in 1893–95, with stunning gardens laid out by Gertrude Jekyll, Chinthurst Hill House was the young architect's first major commission. The current owners are in the throes of restoring the house in it's original style.
Just six hundred vines have been planted on a portion of Chinthurst Hill's four acre site where planting is a mix of Pinot Noir and Pinot Précoce grapes. Grapes have been sent up the road for production and bottling by English wine specialist Litmus Wines, one of the leading forces in English winemaking based out of Denbies Wine Estate in Dorking, Surrey.
After the sell-out success of their first bottling last year, comes Chinthurst Hill Vineyard's first Blanc de Noirs. This white sparkling wine is made from 100% Pinot Noir grapes and only the finest first pressings were used for this release. Proudly made in the Great British Classic Method, which requires the highest level or craft and quality.