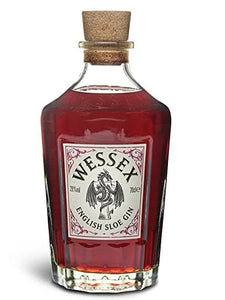 70cl * Vegan * 40% ABV * Surrey, England 
Jonathan Clark established and ran the City of London Distillery off Fleet Street before launching Wessex, a family-run operation, in Witley. Considerable research has gone into what plants would have been available to the Anglo-Saxons of the local area, which has given inspiration to his recipes.
This traditional English sloe gin is patiently nurtured for over 6 months for an extremely smooth result. The Blackthorn berries (also known as sloe berries) are sourced from the English countryside and are steeped with natural sugar to release their rich flavour and give the sloe gin it's classic royal red hue. Juniper is the other botanical in the mix here, giving Wessex Sloe Gin a pleasantly sweet, earthy flavour with subtle hints of almond.
Perfect on its own with a simple twist of lemon as a digestif, sloe gin is also added to apricot brandy, and lime juice to make a Charlie Chaplin cocktail.
Gold winner at the IWSC 2022