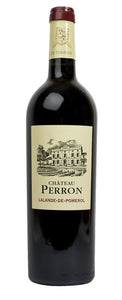 Merlot, Cabernet Sauvignon, Cabernet Franc
75cl * 14.0% ABV * Pomerol, Bordeaux, France
Situated on the edge of the village of Lalande de Pomerol, Château Perron dates back to 1647 and is one of the oldest properties in the appellation. It has belonged to the Massonie family for three generations and was, until the late 1990s, run by, the well-known and well respected, Michel Massonie, who not only founded the wine brotherhood of Lalande de Pomerol and was its first Bailli, but who is also the current President of the Grand Conseil des Vins de Bordeaux. In 1999, Michel Massonie's son, Bertrand, took over the day-to-day management of the property.
This small vineyard is tended like a garden with the utmost respect for the environment using sustainable viticultural methods. The grapes are harvested by hand and by machine, then sorted manually on a sorting table. Alcoholic fermentation takes place in small concrete vats, the grapes from each parcel being kept separate. After fermentation, the grapes are left in the vats on the skins for 3-5 weeks. After de-vatting, the wines are aged for 12-18 months in French oak barrels made by the best coopers and regularly renewed.
Following in the footsteps of the previous vintages, the 2016 is a beautiful deep ruby red colour with deep purple tints. Its expressive, intense bouquet is one of ripe fruits, vanilla and spices with just the right degree of toastiness. The fatty, fruity tannins on attack fill out on the mid-palate, displaying balance and great length - another triumph for this cru, which confirms its status as one of the elites of the appellation.