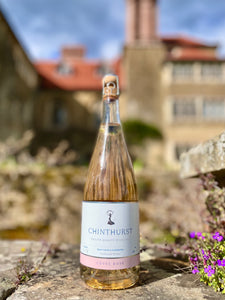 Pinot Noir & Pinot Précoce
75cl * 11% ABV * Surrey, England
We are proud to be the sole merchant of a new addition to the English sparkling wine world with a very limited release of this beautiful Cuvée Rosé.
Please note that due to the limited allocation from this vineyard, there is a one-per-household limit on bottles. If you accidentally purchase more than one, we will process an automatic refund.
Nestled among the beautiful villages of Wonersh, Bramley and Blackheath, this small-scale vineyard in the heart of the Surrey Hills is a site rich in tradition and history. Since 2014, vines have flourished on a sunny southern slope against the backdrop of the local honey-coloured Bargate stone of Chinthurst Hill House. Designed by Victorian architect Sir Edwin Lutyens in 1893–95, with stunning gardens laid out by Gertrude Jekyll, Chinthurst Hill House was the young architect's first major commission of an illustrious career. The renowned architect and horticulturalist duo are responsible for some of the most impressive and distinctive houses in and around Surrey. Next door, an unexpected Grade II listed 10-metre stone folly from the 1930s sits atop Chinthurst Hill itself, offering a secret spot of lush, peaceful views across Guildford, the Chantries, St Martha's Hill and the North Downs.
Just six hundred vines have been planted on a portion of Chinthurst Hill's four acre site where planting is a mix of Pinot Noir and Pinot Précoce grapes. The little-known Pinot Précoce is an early ripening relative of Pinot Noir, which, flavour-wise, is indistinguishable from its cousin. It offers ripe summer fruit flavours to balance acidity, a sensible choice in southern England when an Indian summer for harvest is never guaranteed. Grapes have then been sent up the road for production and bottling by English wine specialist Litmus Wines, one of the leading forces in English winemaking based out of Denbies Wine Estate in Dorking, Surrey.
- Taurus Team Tasting Notes -
"Perfect as an aperitif this is 'Summer in a glass'. Aromas of delicate red berries lead to flavours of strawberries-and-cream on the palate with a just hint of elderflower that is the classic signature flavour of English sparkling wine. This will be our choice of toast to Her Majesty for the Jubilee!"