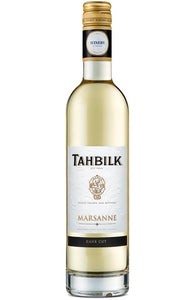 Marsanne
50cl * 11.5% ABV * Australia
The iconic Australian Tahbilk Winery dates back to 1860 and has some of the oldest ungrafted, pre-phylloxera Shiraz vines in the world, as well as boasting the largest single acreage of Marsanne. The name Tahbilk is derived from the aboriginal word 'Tabilk-tabilk' - meaning 'place of many wateringholes' - as the vineyards are located in the unique Nagambie Lakes sub-region of central Victoria. Nagambie Lakes is one of only six regions in the world where the meso-climate of the vineyards is significantly influenced by inland water mass. The numerous lakes and lagoons linked by the Goulburn River create a moderate, cooler climate within Victoria. There are 235 hectares under vine, which include the French Rhône varietals of Marsanne, Viognier, Shiraz, Grenache and Mourvedre, alongside traditional varieties. The unique red sandy loam soils with a high ferric-oxide content are found in only one other location in Victoria.
Cutting the canes of the wine and allowing the fruit to hang prior to harvest concentrates the flavours and sugars to produce a luscious wine. The 2016 vintage is no exception, with its rich citrus marmalade and honeysuckle characters along with a bright, cleansing minerality and a long stylish finish that completes this wine.  
An excellent accompaniment to a slice of rhubarb and ginger cake.