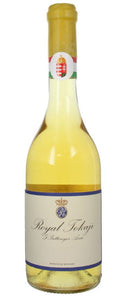 Furmint
50cl * Vegan * 11.5% ABV * Tokaj, Hungary
Royal Tokaji, the King of Wines! Fresh with orange peel and floral notes. The palate is sweet with tropical fruist but balanced by fine acidity, which makes this wine incredibly moreish to drink. Founded in Hungary in 1990, The Royal Tokaji Wine Company has become one of the most defining wineries in Tokaji. From the outset, Royal Tokaji decided to concentrate on producing single-vineyard wines, made from the first growth vineyards of Mezes Maly, Nyulaszo, Szt Tamas and Betsek.
Acknowledged as one of the region's top winemakers, Karoly Ats combines traditional techniques with modern technology to create the award-winning Royal Tokaji range of wines. Royal Tokaji is the acknowledged leader of the renaissance of this legendary Hungarian wine, which, in the words of the wine author and company co-founder Hugh Johnson, is "a wine that would make angels sing out loud in praise".
Drink alongside nuts, 'faux gras' or blue cheese.