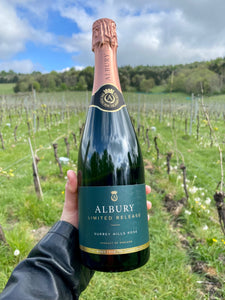 Pinot Noir, Pinot Meunier, Chardonnay
75cl * Vegan * 11.5% ABV * Surrey, England
Located a few miles from our store in the Surrey Hills, Albury Organic Vineyard is the brainchild of Nick Wenman and run by vineyard manager Alex, one of the few female vineyard managers in England. Founded in 2009, the estate is run on both organic and biodynamic principles - quite a remarkable feat considering the sometimes challenging weather we get in Surrey. Each winter the Albury team bury cow horns filled with manure on the vineyard, which are then dug up in the spring and the contents sprayed on the vineyard to improve fertility!
- Taurus Team Tasting Note -
Delicate subtle summer fruit 'strawberries and cream' flavours. A lovely aperitif.